About
Dimensions (previously known as Visual Match) is a pattern-matching game written for Sugar; it is included as part of the Honey collection of Sugar add-ons. The object of the game is to find sets of three cards where each attribute—color, shape, number of elements, and shading—either match on all three cards or are different on all three cards.
Prime Dimensions is the number variant of Dimensions, where instead of shape, three prime numbers, 5, 7, and 11, are used. Texture is replaced by representation, e.g. Arabic numerals, Roman numerals, Mayan numerals, etc.
Word Dimensions is the word variant of Dimensions, where instead of shape, three word categories are used: animal, food, celestial body. Texture is replaced by font attribute: bold, italic, normal.
Visual Match is deprecated.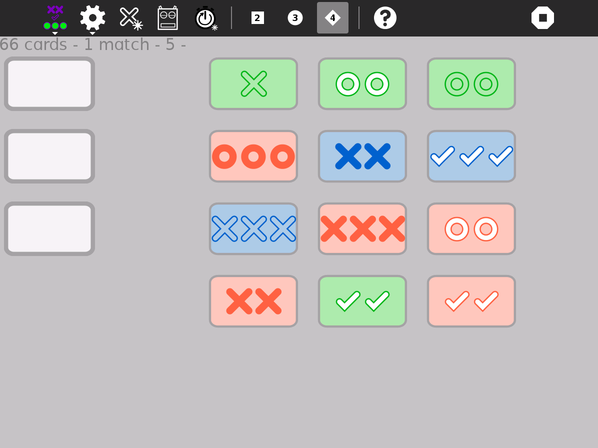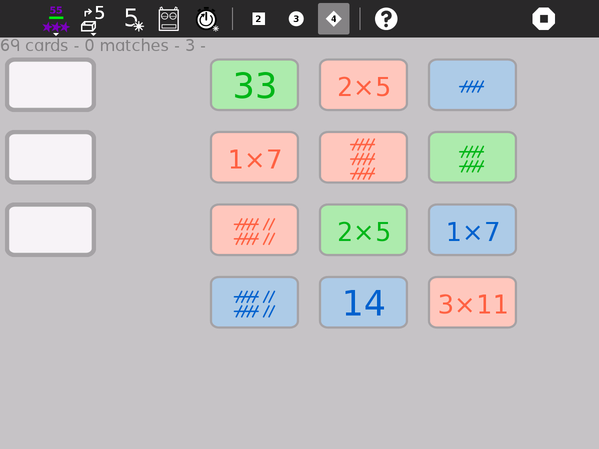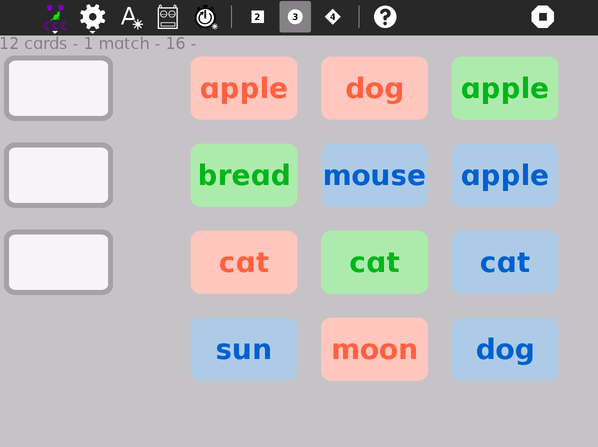 Learning with Dimensions
At a basic level, Dimensions can be used to enhance the observational skills of young learners; they are repeatedly asked: what is the same? what is different? At a deeper level, the concepts of multidimensional sets can be explored.
The numbers games can be used to explore different arithmetic representations.
Extending Dimensions
Exploring the math
The combinatoric math behind Dimensions may be of interest to some learners: See this for an explanation.
Creating a custom game
You can create your own set of cards for Dimensions. Use your favorite program for creating images (Paint, Turtle Art, Record, etc.) to make sets of cards. You need to create at least 9 cards in order to play at the beginner level (3 cards each along 2 dimensions). You can also make a collection of 27 cards (3 cards each along 3 dimensions) or 81 cards (3 cards each along 4 dimensions). The cards must all have the same name in the journal with the exception of a number, beginning with 1 and incrementing by 1, e.g., card.1.png, card.2.png, ... card.9.png. Any image format supported by Sugar should work and you do not have to include the image-type suffix in the title, e.g., card.1, card.2, ... card.9 will also work. Just be sure that the order corresponds to the serialization of your multidimensional space, e.g.:
| card name | dimension 1 | dimension 2 |
| --- | --- | --- |
| my-card.1 | one | red |
| my-card.2 | two | red |
| my-card.3 | three | red |
| my-card.4 | one | green |
| my-card.5 | two | green |
| my-card.6 | three | green |
| my-card.7 | one | blue |
| my-card.8 | two | blue |
| my-card.9 | three | blue |
You load a set of custom cards from the Journal by clicking on the 'import image' icon

and selecting any one image of your set. The rest will be loaded automatically.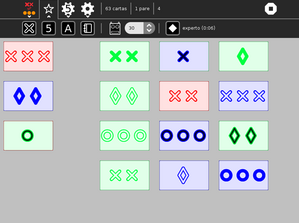 The above cards were generated in Turtle Art. The sample code is supplied with Turtle Art: set.ta, the code generates a deck of cards and saves them as SVG to the Journal.
Credits
Dimensions was written by Walter Bender and the students from his 2009-2010 freshman seminar at MIT: Games, Puzzles, and Other Things to Think With. Special thanks to Michele Pratusevich and Vincent Le, as well as Mark Battley.